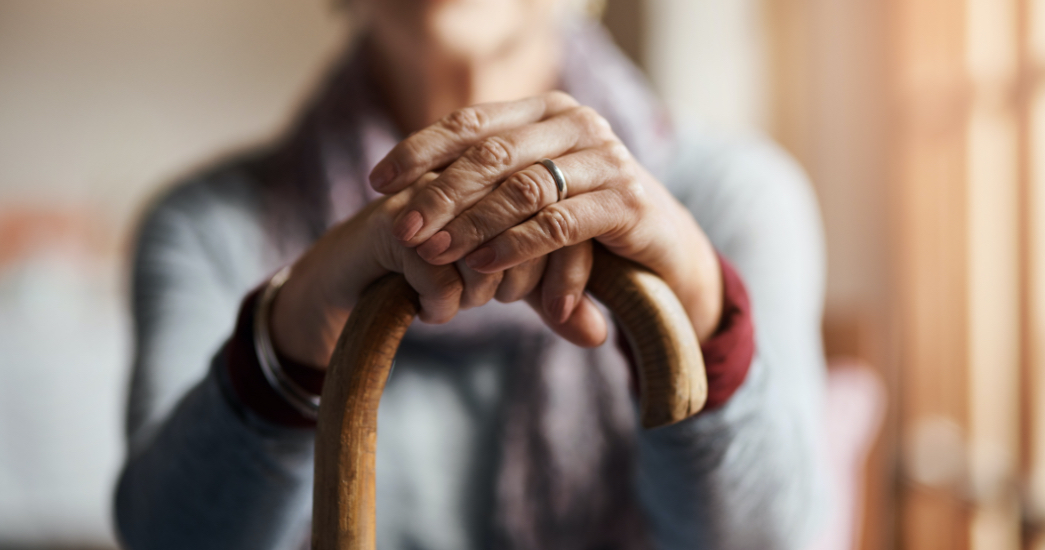 Supporting Older Adults: How to Provide Care When You Can't Be Present
Caring for an older family member can be emotionally challenging and time consuming, and the pandemic has made it more complex for families to support their senior loved ones. In fact, many adults have become caregivers for the first time during the pandemic — one global survey of caregivers found that 20% are new to this role as a result of COVID-19. This role has only become more challenging over the past year with one in four older adults reporting increased anxiety or depression as a result of prolonged isolation due to the pandemic.
With COVID-19 concerns still prevalent and restrictions constantly changing, navigating the various aspects of elderly caregiving remains difficult for families. Here are some ways you can physically and emotionally support older adults while also staying connected and keeping them safe:
1. Find ways to stay connected and social.
Older adults are at greater risk of experiencing severe symptoms if they get COVID-19, and as a result, many are socially isolating and spending less time with their family and friends to protect themselves.
While keeping your distance from others is still recommended, it can contribute to loneliness which can also lead to depression and other mental health challenges. Staying connected to your elderly loved one can help them feel supported and less isolated.
Here are some ideas to stay engaged with your older family members during the pandemic and in the future:

Plan for inperson visits (if possible). Social contact is important and visiting older adults in person can help keep spirits up and make them feel supported. If it is possible to visit your elderly loved one safely, ensure you follow the Centers for Disease Control and Prevention (CDC) guidance and take the proper precautions during the visit.

Maintain consistent contact. Sometimes it's not possible for families to regularly visit older adults. Maintaining an open communication line—whether it's via phone, email, snail mail or video chat—can help engage seniors and keep them up to date. It also allows families to know what's going on in their senior loved ones' life and better recognize if they are starting to experience any mental health related issues such as stress, anxiety or depression.

Send a care package or provide contactless food delivery. Consider sending a care package to your loved one filled with items they like such as baked goods, pictures of grandchildren, enriching activities such as Sudoku or crossword puzzles, yarn for knitting or beads to make jewelry. Ensure that the care packages you send are thoughtful and support your elderly loved ones' interests.
Depending on the area, contactless food delivery options may be available. These services are a great alternative for seniors that may not feel comfortable going to a grocery store or running errands. They're also another way to show older adults that you care.

Encourage socializing with others. While in-home visits are not always an option, encourage older adults to get creative when it comes to their social interactions with others. Do they have a neighbor they can go on a socially distanced walk with or play a card game with outside? For more tech-savvy seniors, encourage them to have a video call with another friend or take an online course to help them embrace a socialized activity such as baking or crafting.
Even older adults who remain social and active (and especially those who don't) may still need additional support for their own mental health and well-being. Ensuring they have access to behavioral health resources is critical. Check what type of support is available under their health insurance coverage and look at options for remote support (such as telehealth) as a tool to leverage.
2. Know what support options are available.
Gen-Xers are typically the chief decision makers in their households and are also responsible for the health needs of their aging parents. However, even without the added restrictions of a pandemic, many families can't always be emotionally present and care for their loved ones around the clock. With the aging population rising, the demand for at-home health care and caretaking is at an all-time high, which has the U.S. actively working to address this shift.
Depending on your elderly loved ones' health and living situation at home, they may need help with certain tasks such as monitoring health conditions and medications, managing outside care and assistance with shopping or housework. While you may be able to help, either inperson or from a distance if you live far away, there is professional help that you can utilize to provide additional physical support. If your elderly loved one needs assistance with daily activities, such as bathing or preparing food, families should consider at-home care options. At-home care services can give families peace of mind knowing that their elderly loved one has someone to care for them and help with routine tasks.
Many health insurers, such as Harvard Pilgrim Health Care, give members access to various professional help services that can assist families with care for their elderly loved ones. Specifically, Harvard Pilgrim and Landmark Health are working collaboratively to provide complex care coordination services for members with special health care needs and guide them to better health outcomes. Through this collaboration, members eligible for the Landmark program have access to 24/7 care, including weekends and holidays. Physical house visits are also available to older members which enable providers to come in and assess social determinants of health and provide guidance for future care.
"The Landmark care model delivers medical, behavioral, social and palliative care to individuals, where they reside and when they need it," says Sara Raposo, senior manager for Medicare Stride Care Manager for Harvard Pilgrim Health Care and Tufts Health Plan. "Their multidisciplinary care team is supported by physicians, advance practice nurses, pharmacists, nurses, social workers, behavioral health clinicians and dietitians. Landmark's holistic approach to care ensures members with complex health and multiple chronic conditions receive the appropriate care and support to manage their individual care needs."
3. Take proper precautions and follow CDC guidelines.
Even if you and your loved ones are fully vaccinated, it is still important to follow CDC guidance. The CDC recommends that individuals understand the level of risk before deciding to go out and ensure that people at increased risk of getting COVID-19 are taking proper precautions. A few considerations to keep in mind include how many people you will be interacting with, the location of the event (indoors or outdoors) and if you will be able to socially distance.
A few key steps to follow if you decide to visit your elderly loved one include:

Wear a mask and social distance. If you or your loved one aren't vaccinated, make sure you wear a face mask that covers your mouth and nose, and keep six feet apart when possible if you are gathering indoors. The CDC recently updated its guidance for vaccinated individuals so ensure you know what guidelines to follow prior to your visit.

Stay home if you have possible COVID-19 exposure. Avoid visiting if you or anyone in your household have symptoms of COVID-19 or ha been exposed to someone with COVID-19 in the last 14 days. If infection rates are high in your area, consider delaying or cancelling your visit.

Wash your hands frequently. During your visit, ensure everyone washes their hands for at least 20 seconds. If soap and water are not readily available, use a hand sanitizer that contains at least 60% alcohol.
The CDC has issued updated recommendations for visitations at nursing homes. If you're planning to visit your loved one in a nursing home, check with the facility beforehand to understand their current visitor guidelines.
4. Ensure you and your loved ones are vaccinated.
All COVID-19 vaccines available in the U.S. are safe and effective based on clinical trial results. While these vaccines are important for everyone who is eligible, they are especially critical for older adults. As people age, their immune systems weaken and it can be more difficult to fight off infections, which is why the CDC highly recommends individuals 65 years of age or older get the vaccine. In fact, COVID-19 hospitalizations among older Americans have dropped over 70% since the start of 2021, and deaths rates have also decreased, showing that U.S. vaccination efforts are working.
Right now in the U.S., anyone 16 years of age or older is eligible for a COVID-19 vaccine. If you plan on visiting your elderly loved one, it is important that you are vaccinated to help stop the spread of COVID-19. As a reminder, immunity doesn't happen instantly after you are fully vaccinated. Individuals are considered fully protected two weeks after their last dose of their vaccine.
There are several ways to find a vaccination location near you, including visiting your local health department's website or using Vaccine Finder, so be sure to routinely check these resources as appointments become more widely available.
Taking on the role of caregiver for an elderly loved one can be mentally and emotionally draining, which is why caregivers also need to ensure they are taking care of their own mental health and well-being. Seek out support if the role begins to feel overwhelming, and if you're a Harvard Pilgrim Health Care member, you can learn more about the mental health resources that are available to you by visiting here.